Tis the season for baking. And pies are probably one of the most popular fall baked goods ever. Who doesn't love pie, besides my husband? Honestly, they're awesome. You can put just about anything in a pie and it's yummy. But you know that moment when the pie comes our of the oven and you have that sense of accomplishment? You're proud of what you made, then you look closely at the crust and it isn't as cute as you'd like? It's just crust, it's going to taste fine, but you want it to look nice too.
I, for one, am tired of the same old pinch edge. The little zigzag your mom taught you?
Or the fork crimp. What IS that?! It's not pretty. It's functional, but ugly, period. Unless you dress it up. I'm not the most crafty artsy fartsy person ever, but I know food. And I want my food to have a pleasing aesthetic appearance.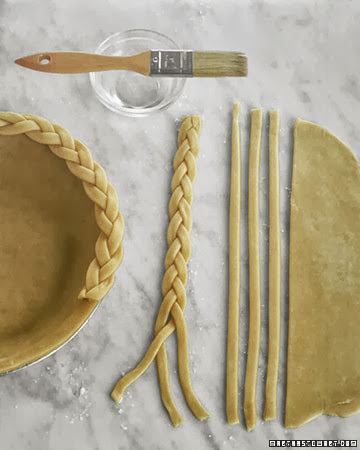 I sooooo want to do this on my next pie!
Get creative with your crust! Use a spoon to scallop the edges or create a layer effect. If you want to use the fork crimp, get out some scrapbook scissors with a neat design and trim off a little of the edge to make it look cool. Sorta. I am all for making a little extra dough, and making a braid to go around the edge. There are even cute pie crust cut out!
All in all, look around your kitchen. You can make fun designs with the edges of a lot of every day items. We first eat with our eyes right? So, have fun in the kitchen and be creative!
There are also a ton of pie crust cutters out there that make a super cute edge. I love baking, but making it look as good as it tastes is hard, time consuming, and frustrating. But it pays off when you bring that pie to the table and hear people say "ooooh!" It's fulfilling.
Very cute for Valentines day or an anniversary, find it here.
I use this recipe mostly because it's fast, easy, hard to mess up, and very yummy. A lot of recipes out there are too floury, too flaky (yes, that's a thing with crust), tasteless mess that don't match well with the pie filling. I found this over at
Food.com
, enjoy your pie baking holidays!
Never Fail Flaky Pie Crust
Ingredients:
3 cups flour
1 cup shortening
1/2 teaspoon salt
1 large egg, beaten
5 tablespoons cold water
1 teaspoon vinegar
Directions:
1 Cut together flour, shortening and salt until it resembles small peas.
2 Combine the egg, water and vinegar and gradually add to flour mixture.
3 Stir just until moistened and a soft dough forms.
4 Divide into 2 disks.
5 Wrap and refrigerate until ready to use.
6 Roll out and use with your favorite pie recipe!